With the summer months upon us, who doesn't dream of spending relaxing days by the seaside – permanently. Miele for Life heads to the beach to visit five very different coastal homes, each beautifully designed and expertly executed to inspire your very own coastal home project.

Bungan Beach Eyrie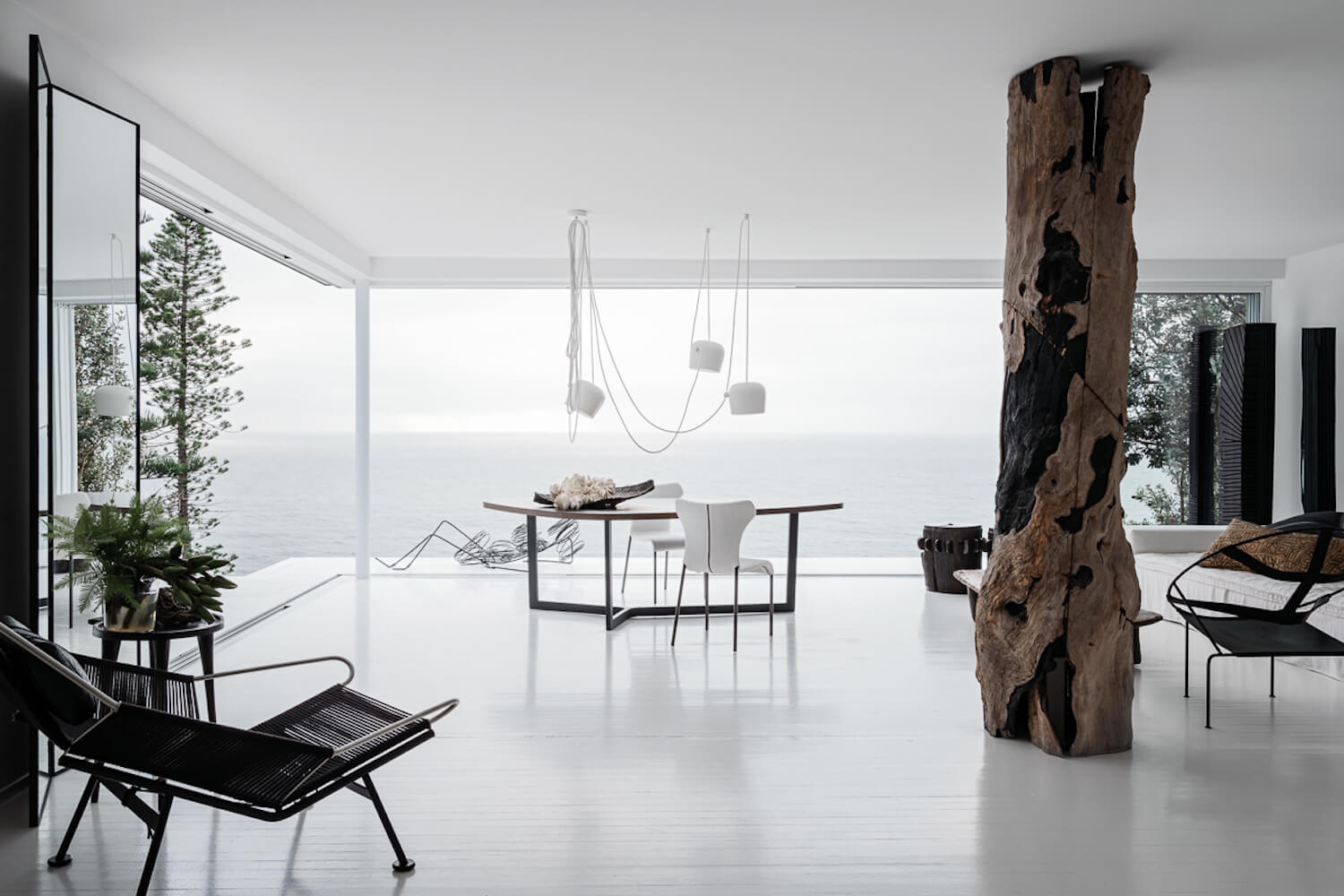 The Bungan Beach home in the NSW coastal town of Newport is the retreat of designer and Les Interieurs owner Pamela Makin. Eschewing convention in palette, fit out and aesthetic, Makin has curated a space that truly reflects and responds to its environment, making for a calming and restorative space. After all, when you have views like this, why bother crowding them?
With its distinct Pacific Ocean views, the Bungan Beach house is where Pamela and her husband retreat – and after being immersed in the buzz of the city throughout the day, it's truly a place of restoration. "After living and breathing design and styling each day, I retreat to the beach house to unwind and relax," Pamela says. Working with her favourite colour palette of white with accents of black, the home's most recent transformation has seen it become a calming minimalist retreat, peppered with design furniture, artwork and indoor greenery (not to mention that tree trunk by Makin's husband, artist Reginald Byrne) to build a distinct character.
Photo credits: Felix Forest

Portsea Hideaway
Mim Design gives us plenty to admire in this three bedroom family holiday hideaway in the tiny coastal town of Portsea on Victoria's Mornington Peninsula. The pavilion style coastal hideout encourages a sense of close-knit family living – with the interior palette selected to reflect a casual yet refined take on beachside living.
Soft grey, pebble, ivory, pumice and black plays out across the interiors, deftly matched with textural finishes such as super soft knotted wool carpets, slatted timber wall panels and veneer shelving, powder-coated door handles and oh-so-smooth stone bench tops, bringing high level style this holiday retreat. Almost too nice to share with the little ones!
Photo credits: Sharyn Cairns

The Clovelly House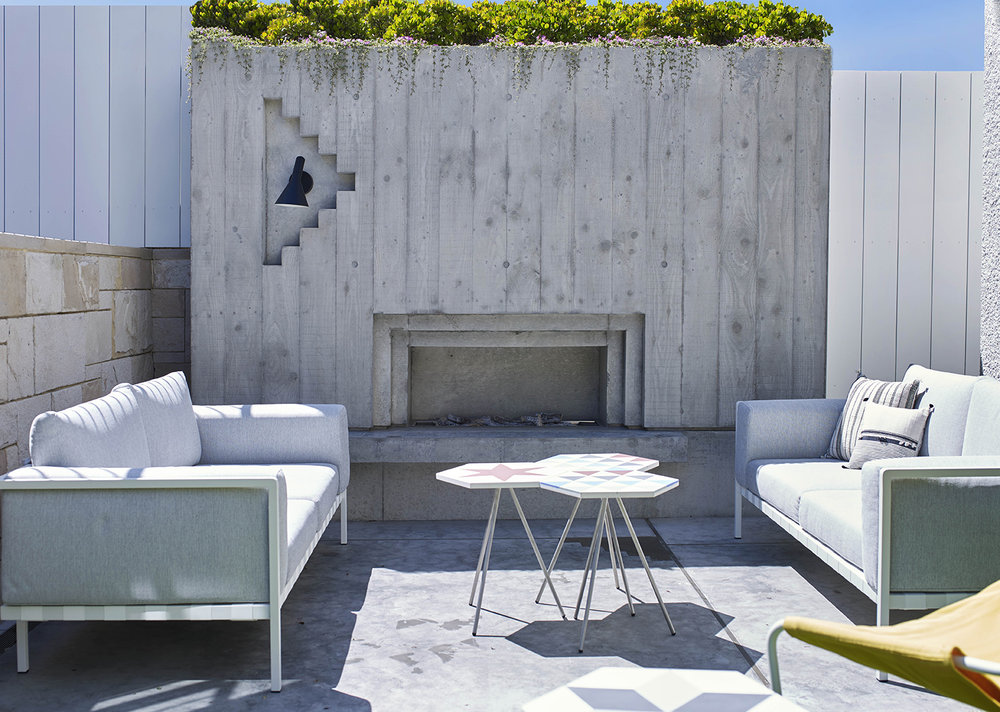 It's one thing to be inspired by an artwork, and it's another to design a home around a piece of art. In this rare instance, Madeline Blanchfield Architects teamed up with their creative clients to meet a brief motivated by a 17th century lithograph print "Marvels of Things Created and Miraculous Aspects of Things Existing" – providing the basis for a calming and quirky residence overlooking the east coast shores of Sydney's northern beaches.
With creativity and craftsmanship, the design not only subtly evokes the artwork but expresses it in tandem with the surrounds; embracing the ocean views, opening up canopies to draw in more light and, just like the artwork, offering a deeply personal reflection of the owners themselves.
Photo credits: Prue Roscoe

Point Lonsdale Retreat
It may look like a timber block from the outside, but this Point Lonsdale 'weekender' on Victoria's Bellarine Peninsula by InForm Design is anything but ordinary. Working with split-levels to create communal and private spaces (not to mention a hefty amount of entertaining space), the designers have created a truly modern Australian coastal retreat – the type that expands the idea of a holiday house.
Draped in natural light, the large upper level living space is further expanded with the expansive deck, outdoor fire and pool easily accessible through the sliding doors. Downstairs, the lower level lounge opens out to a smaller tiled courtyard space to unwind in private. As you might guess from the exterior, timber is a dominant material throughout the design, but never overwhelms the home's relaxed aesthetic, keeping it in tune with the breezy beach locale.
Photo credits: Derek Swalwell
Waterfront Villa reborn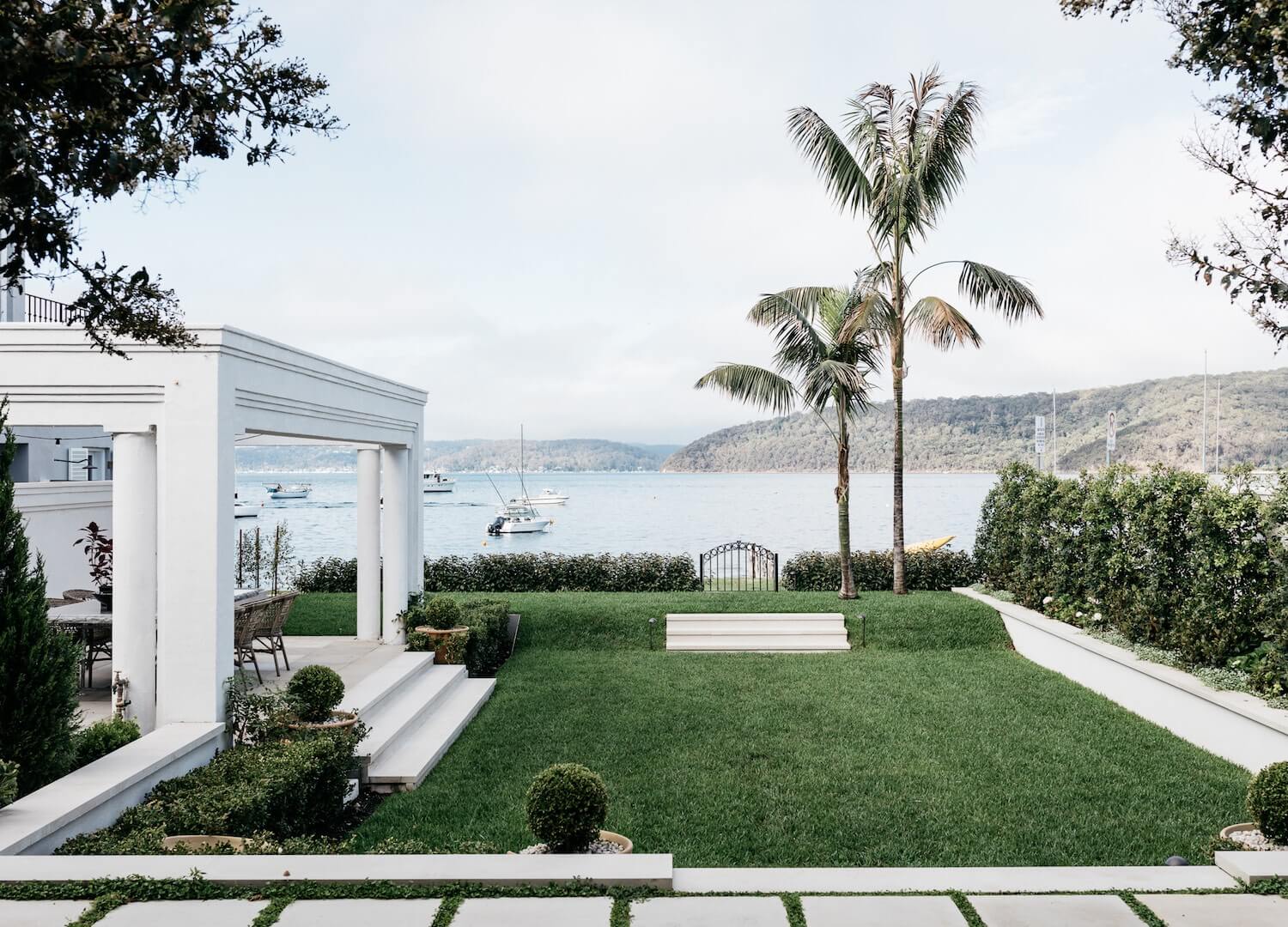 Palm Beach is a beloved weekend getaway for many Sydney-siders, with its fair share of enviable holiday houses. And the 'Iluka House' transformation from run down waterfront villa to graceful retreat takes seaside chic to a whole new level.
Designed by Alexander & Co, a restrained European aesthetic, bespoke details and rich materiality created a new lease on life for this home away from home for a Sydney based family who wanted a coastal retreat for their young children but also to welcome friends and extended family. Maximising water views, creating relaxed private spaces and generous communal hubs are a feature of the extensive renovation.
"The client's also wanted handmade and bespoke elements and detailing that would still hark back to the villas original European sensibilities and create a new legacy for the home," says designer Jeremy Bull.
"It was about creating a sense of place and history without becoming overstuffed or trend-orientated."
Photo credits: Felix Forest