What's in vogue for entertaining this summer
As we begin to reemerge from this difficult period, now is the ideal time to showcase the culinary skills you have been perfecting with the latest trending summer dishes for family and friends. The Miele team has curated this selection of in vogue dishes to create this summer as you effortlessly delight your guests with modern and chic flavour combinations.
"The last year has been difficult for all of us, and with warmer weather, we are all craving a little more colour, celebration and zest in our lives. On trend will be dishes that create a luscious palette of colour and promote sharing and connection, while still being safe and self-contained," shares Miele Home Economist Isobel Dreisenstock.
"Expect vibrant meals served individually in ramekins, glasses or small bowls. This creates opulent impact and keeps entertaining socially responsible without ditching any of the fun or flair."
Many elements of this mouth-watering summer menu can be prepared in advance, and finishing touches applied just before serving, so that you have maximum time to spend entertaining your guests.
Ms Dreisenstock recommends that in order for the home chef to produce this menu effortlessly, you should read through each recipe in advance and assess what ingredients and stages can be prepared a few days prior to your event.
Pork and prawn wonton soup
Many people find shaping wontons a little intimidating at first, but with a little practice, they can be a delicious and tantalising appetiser that gives your meal a certain wow-factor.
"Wontons can be shaped and folded in many different and intricate ways. These can range from the simple triangle shaped wontons that are folded diagonally, to the more rounded wontons where all sides are folded together."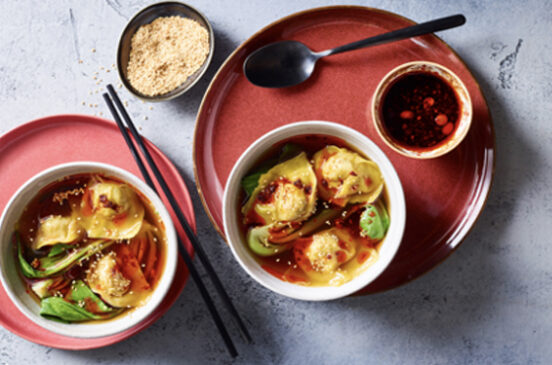 In this dish, you can buy wonton wrappers ready to fill, creating the beautiful pork, prawn and vegetable filling and then bringing it all together, before placing in a Miele steam container and into the refrigerator for 10 minutes before steaming.
Finish with a bunch of baby bok choy and sesame seeds, and you have a dish that is sure to wow your guests and get their taste buds travelling the streets of your favourite East Asian laneways.
Click here for our summer recipe book where you will find many summer entertaining ideas including our pork and prawn wonton soup.
Mediterranean polenta chips
One of the latest flavour sensations on the menu this year are Polenta chips. Crispy on the outside, filled with delicious polenta (coarsely ground corn) on the inside, and seasoned to perfection, this recipe provides a modern spin on an old crowd-favourite.
"One of the best things about this recipe is that the polenta and Roma tomatoes can be prepared the day prior to serving and kept refrigerated until required," says Isobel.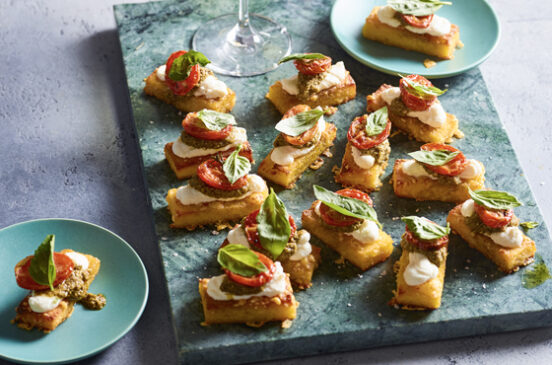 To add a bit of pizazz, pipe or spoon whipped cheese onto each chip and top with a layer of basil pesto (1 tsp each), before finishing with Roma tomatoes and fresh basil leaves. Tastes fresh and delicious, and can be served 2-3 on a small plate for your guests. An instant favourite!
Click here for our Mediterranean polenta chips recipe.
Lemon posset with raspberries and amaretti crumb
With experts tipping that lemon, alongside coconut, is going to be one of the tastes of summer, this recipe for Lemon posset with raspberries and amaretti crumb is perfect for any occasion.
Historically, a lemon posset sees heated cream thicken when lemon juice is added, which is then piped into horns with a raspberry placed on top. However, in this modern adaptation that adds Amaretti biscuits and is served in stunning standalone cocktail glasses, this dish is transformed into an elegant dessert that packs a zesty citrus punch.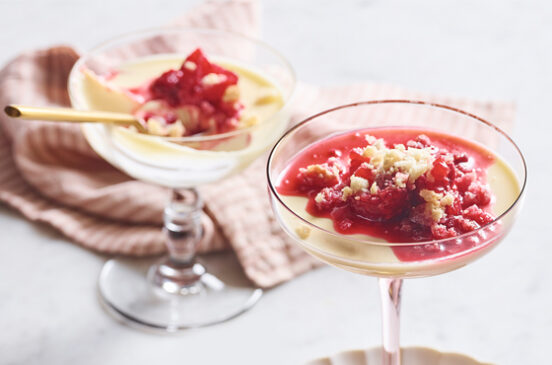 "This is one of those desserts that looks far harder than it is, and leaves guests impressed to the max at your culinary prowess. It can be prepared well in advance – in fact, preparing the day before provides a more robust flavour," – Ms Dreisenstock.
"Amaretti biscuits are a light and crunchy almond-flavoured biscuit, crispy on the outside and chewy on the inside. Plus, they're naturally gluten-free, which is great if you are cooking for those with food intolerances. Simply top each posset with a spoonful of raspberries, followed by crushed amaretti biscuits, and your dessert is complete. It's classy, it's stylish and it's delicious enough to die for."
Click here to view or download our summer recipe book where you will find all these and more summer entertaining ideas.